ack, so, sorry i disappeared for a little while. i was finally being a grown up (aka being curled up in a ball, crying for three days, desperate for guidance and advice) and working out the kinks in my immediate future.
officially, from here on out, it's philadelphia part two! i was starting the motions of moving to & attending uga, but it just didn't feel right. okay, there were like ten thousand other factors but very, very long story short: i am going to move out of this super expensive area at the end of my lease and attend temple. i am very excited about getting a bigger place (hopefully!) and spending less, although i'm going to miss living right next to whole foods, south st, so many cafes, etc. ugh, i have already started mentally decorating and ikea-shopping- i can't wait to start fresh!

i am now focusing on crafting my tush off again. i just finished some stuff that will be en route tomorrow to a man with a boutique! i made a friend's mom some stuff for her birthday, and apparently her boss saw them/my etsy, and bought a few things to sell in a shop that he owns. i'm really hoping it goes over well, because then i will have a real store! in the world with some of my stuff. kind of exciting, but i am not getting my hopes too too high. also, with my new paper cutter: grocery lists! little dreamy notebooks!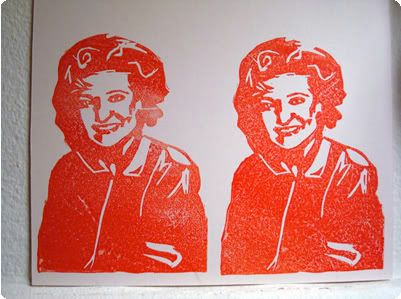 about two (or three?) weeks ago, i started experimenting with more challenging and realistic "stamps". i made a betty white linocut, and was going to do all four golden girls, but it didn't come out really anything like i hoped. so now i have a four inch old lady stamp and nothing to do with it! weird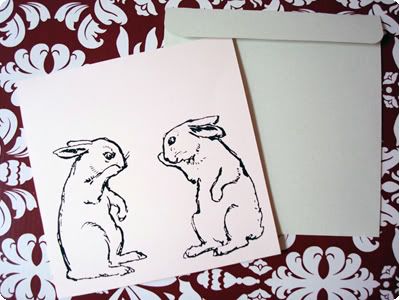 also, that same superproductive week, i got everything out and silkscreened for the first time since early autumn. this apartment is totally unsuited for it- hopefully the next will be a little better. anyway, it's those damn gossipping rabbits. i am not making any more of the earrings because i don't want to burn out on it, but i think the image is just too too appropriate for cards.



aaaand, most of my attention has been on this gaudy painting. as of the last week, though, i haven't touched it because i am dreading taping everything off to do the plaid background. i'm a little confused about the increments and all, and totally unmotivated to get into it.

so, that's that! the weather is DREAMY and i wore a skirt outside all day! i am thankful for the great people in my life who were so supportive this week. i feel like myself again, i am very happy, and cannot. wait. to throw out this evil couch. hopefully my next post will be a little less craftcraftcraft, but i need to do a better job of taking pictures while i'm out for that to be a possibility. yack yack yack, goodnight!