not much to say- other than i am jess gonacha's biggest fan. c: on top of the fact that she is sooo crazy good at everything she does, she was the biggest help with fabric block printing drama. we are talking about doing a trade (i know, i really feel like i've lucked out and that she is out of her mind) so i will have a fun update of that when it happens-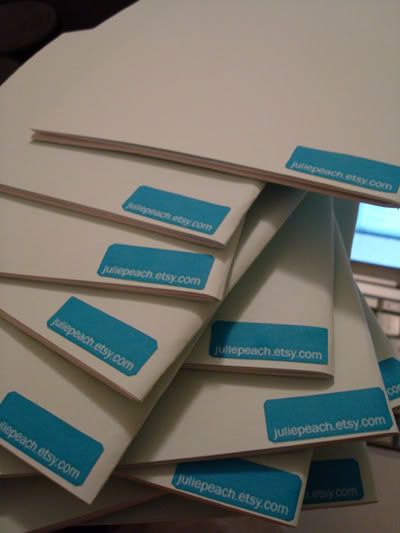 i finally completed the wholesale order for 3 sets of undersea notebook sets (each set = 4 undersea creature notebooks) yesterday- this was a particularly fun project, as it resulted in three new cute animal blocks (i'll show them later! it's a turtle, sting ray, and blowfish along with the jellyfish one i've already posted)... the girl who runs the shop (Splendid Little Shoppe in Petaluma, CA) suggested i make little name plates(?? idk what to call it) for the back of the notebooks- she also suggested i make an artist's bio to put on display! ry designed it for me, of course, and even though he was a big negative nancy about the final i LOVE it. i made a little stand out of folded cardstock so it's freestanding! dorky but fun.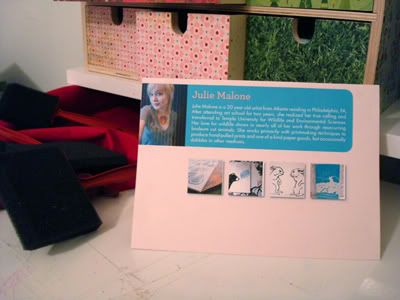 the "bio" says: "Julie Malone is a 20 year old artist from Atlanta residing in Philadelphia, PA. After attending art school for two years, she realized her true calling and transferred to Temple University for Wildlife and Environmental Sciences. Her love for wildlife shows in nearly all of her work through reoccurring linoleum cut
animals. She works primarily with printmaking techniques to produce hand-pulled prints and one of a kind paper goods, but occasionally dabbles in other mediums."
IT'S FROM THE FUTURE! i didn't want to put a lot of "almost" and "is going to", but for the record i won't be 20/attending temple until august. big whoop! I felt a little silly writing that up, since I still don't take my stuff serious as "art" or anything- it's just a lot of fun that I have been doing lately, and I hope it never ends!



lastly, here is a sneak peek of a super fun project i've been working on... my cloth napkins! as i said, jess was a HUGE help with some problems i had on my first attempts last night. this was about an hour into it, and i spent the rest of the afternoon being a craft machine and pumping out a bunch more! i'll post those as i finish the sets... i'm trying to sucker ry into doing the bellyband design but i might end up winging it myself.

eek okay so apparently i had a LOT to say! but that's it, i swear! i just had half a cup of iced coffee forgetting it's 1AM and will probably be all crazy for a few more hours.