so, although pressure really should be on with planning my almost immediate future, i have been reading warm with the windows open, leisurely crafting, and visiting with friends. i am feeling a little better that my lease is two weeks longer than i previously thought, as well as that my last month's (may) rent was paid when i moved in. i still need to get serious about this, but i can't help but sit by and wait for something big and dramatic to point me in the right direction.

i made a few more sales and put up a few more items this week- the more i make, the better i feel like i am getting at it! and today was really exciting- i finished up card sets, did the photo/posting for them, pulled out/color-coordinated all my fabrics and started four fabric collages, did a little doodle and design, and burned a screen full of images to use. i love days full of diverse crafts. not to mention i ran errands for a few hours in a sleeveless sweater while drinking lemonade iced tea! i mean, everyone else was in jackets and uggs still- but don't they know it's spring in the south?




after sending out a few care packages last week and being in utter panic that everything wouldn't make it in one piece (even after stuffing bags in plastic bubble wrap envelopes for insane cushion), i started making some gift boxes. my first one is here, and i actually made it simply by eyeballing with no real measurements. so i was excited with the results! as well as it gives me a use for stamp patterns that i've decided i don't like enough to cut into tags.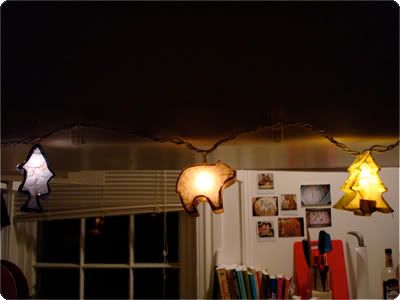 other things: i splurged a week or so ago and picked up some woodsy lights from target.com that jamie said reminded her of me. she was right! my mantle has been really bare since christmas season ended, and i was stuck with what to put up next. i admit they are a little, um, autumn-y but i intend to make them my nonseasonal default decor. sooo precious!



lilly really liked the box the most, and will probably continue napping in it until trash day.



and here, speaking of lights, is one of the few projects i liked at uarts. the assignment was, simply, to create a kind of lace (knit, cut, crochet, burn, etc) that interacts with light (natural, artificial) in an interesting way. i ended up slowly, slowly xacto cutting these greeeeat big sheets of fragile paper with some vintage damask patterns- then i glued/decoupaged?? them over a frosted plastic- i just turned the sheets into lamps bc i had to idea how else to show them. i really want to make more, because they are really beautiful (sorry if that's snooty to say!) in both light & dark. click here! for them in the light, they are great shades of blue.

i hope everyone had as delicious and pug-filled easter as i did, but i really doubt that's possible! i had soooo much food and three friendly pugs to smooch at ry's family easter. okay, back to golden girls and then trying to get some zzzzz.