okay, it's official: this has been the fastest year ever! i cannot believe we're into may, already... eek!
besides working on my future STILL (like visiting temple, making arrangements & calls, sorting the huge huge boxes of packing boxes my wonderful aunt sent me) i have been having a frantic love affair with my rotary cutter... no, seriously. i loaned it to ryan this week so he can work on finals & books & portfolio stuff, so i have a little break from insane crafting/etsying to make a post.

i made like five new stamps this week! and it's so funny because the ones that took me the longest, i'm not that crazy about. i made some from doodles & on scrap speedycarve and they turned out to be my new favorites. ah, well.



in the same fashion as all of my other ugly patterns. i just love love sketchy ugly repeating patterns!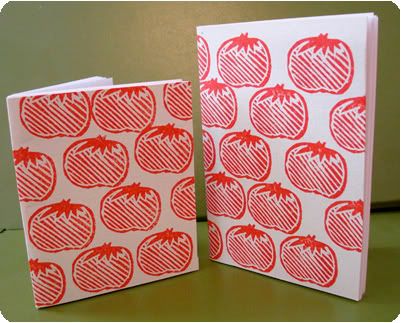 yeah, i literally made this in a few minutes with no reference sketch- expecting to toss it since it was on a tiny scrap corner... and hullo, what a cute surprise! a lil stripey tomato!



i haven't gotten a really outstanding picture of this print yet- but its stripey lovely leaves. it was sooo quick, too, and just based off of a quick doodle. it's so very ikea, isn't it??

well anyway, i'll try to get more pictures taken now that everything is lush lush lush! i am just very bad about bringing my camera out when i'm running around with friends and all. this is going to be a good, busy summer, though (i hope!). i can just feel it.