it's amazing how hopeless everything was like a month ago- i mean, truly, absolutely terrified hopeless. i didn't let on much here because i didn't want to degrade this into a ranty blog, but i was so upset and scared all the time.

and now, with (only a few) boxes packed and FOUR giant bags to donate to philly aids thrift (i'm like the antipackrat)- everything is just looking up

i went to lou's block's memorial day bbq on sunday... it was so, so sweet & fun. i wish i had taken pictures, but i could not be more excited about those people being my neighbors. OH i don't think i've mentioned it, that's my new living arrangement! i am moving in with my good friend lou, who has basically been one of the like 4 totally true & reliable friends i've made here. i'm gonna be in a sweet safe south philly neighborhood with a bunch of old people and charming italian people. i am super excited (even with the loss of my teeny sweet cozy love love apartment :[ ), and everything should be really great as long as his cat (scuz) and my lilly get along.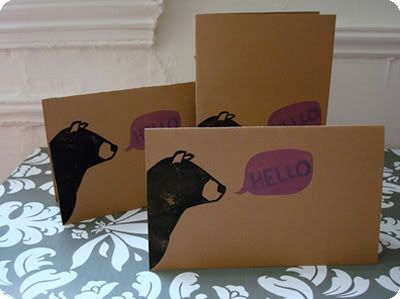 so anyway, i am writing this now on a breathing break. i made a bunch of animal "hello" cards with the SIX new linocuts i made this week- so far they are what i am most excited about, and it kind of makes me want to empty out my entire etsy of the junk i made when i was first learning. ha!




(chickadee, bear, capybara, and anteater!)

everything is going to get real nuts real fast. i move out THIS weekend, hopefully in one day, and then i have to immediately get started on making 125 NOTEBOOKS FOR A WEDDING! i am so nervous & excited about such a big order! it is going to be really exciting to see everything laid out, what a massive number! i also have a small boutique order of stuff that i think is all already made & ready to be handed away. then! hopefully! a "real" job ASAP- i met/spoke to/handed my resume to mistie's boss at the bean exchange. he said he wished i applied earlier, and when i told him i did in january he acted really bummed that my resume never resurfaced- so anyway, if two girls there that are "on notice" end up leaving i could have a job there. if not, i'll be a little disappointed but there's always trying at philapets after i get a bike, or even doggie style. soooo lots of changes, but they are positive exciting ones.

sorry i am sooooo wordy but i am experiencing that high that comes with new, exciting things ahead. yay. hope everyone else is doing well!