so although i was listening to this album nonstop a few months ago, i sort of forgot about it recently -- even though now the weather is really suited for it. anyhow, just saw this video about two minutes ago and it was so heart warming (plus! oh! that little apartment made me so sentimental feeling) that i wanted to show it right away



other things:
picked out paint for my bike today- the bike itself was a real (lucky! saved me tons of $$!!) fluke and i couldn't be more excited. ry found it along with some other bikes his grandpa owned when he did repairs? and/or built them? it's very vintage and petite and i cannot wait until it's all updated and ready for me! the paint i picked out tonight is the dreamiest creamiest ice blue! and i'm going to get peach or yellow handlebar tape, depending on how light or dark the paint actually turns out after sanding/priming/painting/top coating.

summer looks good, so far, already. the bike is a big, big plus because i'll be able to head over to my old stomping grounds more frequently, and i can finally ride around the park with ryan. and mistie just got the most adorable bike, too! so we can add that to things to do together.



cats are behaving a little better, although we dealt with a bit of a traumatic situation earlier when (and we're still not positive how) scuz fell out of the second story window! he is totally fine and actually seems unphased, but he hit the awning and then the ground. our assumption is that he got spooked by lilly and/or she chased him, and he jumped into the window harder than usual and popped the screen out (it was practically mangled into the awning). here is the handsome devil, just hours before the whole thing went down.



it hardly looks like 125 but it is! 20 pages each, = 40 front and back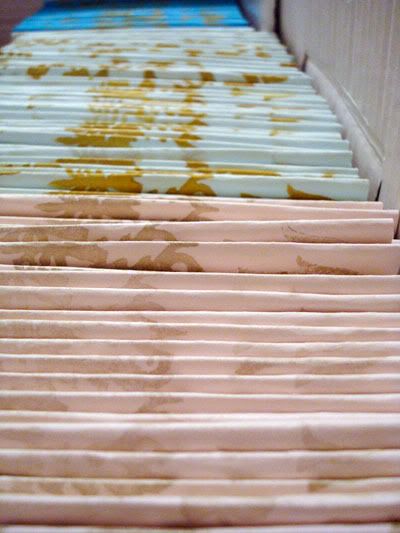 i finished the wedding order! it took me three days (day two, i made 76 IN ONE SITTING) and now i'm not sure what to do with myself! i worked very hard to get it done, since their wedding is the 13th- but i feel a little sad that it is over. what an adventure! they chose the two patterns & color scheme. i kind of wish it were silver ink, because it's so much subtler but i think this matches their wedding and looks pretty nice anyhow.

one bbq and then (ack, mustache) party tomorrow, very exciting- tonight was a rather impromptu bbq. it was short and sweet, basically a group dinner, but it got me excited for more (planned out) ones. ++ ice cream party?? hopefully??


(i am drinking about two of these a day)
i'm really happy in this house. i was so sad about leaving my apartment, but i couldn't be in a better place. and! for the first time in like two years i have a full-sized refrigerator AND ice!! as a result i am making massive amounts of iced coffee (which i served alongside the veggie burgers/veggie hot dogs ry cooked tonight, so weird! but good) the only thing is my dang roommate gets to GO HELP WITH A PAULA DEEN PHOTOSHOOT ON SUNDAY as part of an internship and i think i couldn't be more jealous of anything in the world, besides like my best friend sleeping with bobby flay or ryan leaving me for giadda delaurentis (btw how creepy is it that i spelled that right the first try?).

it's so late! hopefully ryan will get back soon so we can play his wii for the first time in forever, and get some sleep in a cool room before it hits in the 90's tomorrow. ! hope everyone is having a great weekend, and special thoughts to dear san on her birthday.