i just love summer. ryan has been cooking out nearly every night we eat together, so i'm getting veggie burgers or fresh grilled veggies at least 3 nights a week! i'm also loving how late it stays light out- i think it helps night people like me stay totally focused & productive for many more hours! (and not feel so bad for waking up inexcusably late every couple of days, ack)



lou & i had some friends over last night for an ice cream party- it was suuuuper gooey sugary sweet fun! i had made a joke the night before about putting lucky charms on my ice cream, and lou went out and bought a box! ha. so we had chocolate syrup, whipped cream, lucky charms, m&ms, and my super embarrassingly large sprinkle collection to choose from. above is a little photo collage of everyone's ice cream masterpiece! i think i missed a couple but they were all pretty similar... lots of toppings!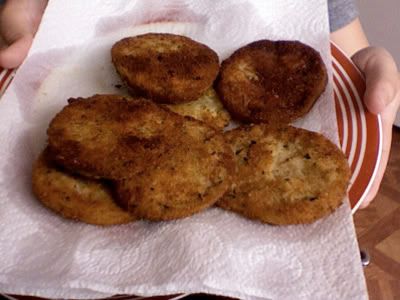 ohh! speaking of food! my dad USPS'd me a box of green tomatoes! it was totally unexpected & kooky (he does strange things like that sometimes) but i fried them up and made tons and tons of fried green tomatoes... now i have this lingering craving for them all the time. i've GOT to get back to juliette, GA (sight of the classic movie) to the Whistlestop Cafe (!!) for more. that was like the best southern meal i've ever had, period.



also, of course, i've been keeping up with my linocut stuff. it's so strange how much i'm enjoying it, that i haven't gotten tired and moved onto a new medium. i'm usually gung ho with stuff for a few weeks or months, then feel very obligated to the medium and move on- or worse, experience a total inspiration dry spell. i think because it is a pretty vast medium & it's given me the courage i've never had to start attempting to illustrate things. the image above was a quick, two minute doodle and 15 minute carve.



that tangent actually reminded me, last summer around this time i got some money together and bought everything i needed to start casting resin. that lasted about 3 weeks or so when i became discouraged after i realized how easy it is for everything to come out looking really kitschy and cheap (which, oddly enough, would be how i endearingly describe my paper goods style). welp, the other afternoon i found a bunch of pieces that i actually like and i went ahead and drilled them & started attaching wire so they could be pendants. i literally stopped mid-posting the last paragraph to try to get some nice pictures while there is still some daylight left in my room- maybe i'll post a few pictures here. & i would love honest feedback, my feelings won't be hurt since this was a medium i never took the time to learn about. are they ugly? are they something you would wear, or even a kooky relative would wear? i would love feedback because if i keep holding onto them i'll eventually trash them like everything else. (there's not supposed to be a cat hair in the second! i didnt notice it until after i uploaded the pic, & it brushed right away.)

that should be about it for today, i think. i'm going to try to be a little better about smaller, more frequent posts rather than these massive ones. ohhh but be excited! this time next week i should have some sets of cloth napkins ready! i am sooooo excited about fabric block printing- i'm going to start practicing tonight on scraps. c: