it is SO humid out today, but i managed to take a trip to the park with mistie & pick up some groceries anyway... by the way, you truly haven't lived in a city until you've had to carry 40 lbs of groceries at least ten blocks. i, luckily, have been able to get ryan or my roommate to take me in a car whenever i can... but before them, it was just par to make that trip weekly. i have the world's strongest shoulders (just ask my boyfriend, he thinks they are creepily muscular)
also, you truly haven't been a crazy cat lady until half of those 40 lbs are a huuuge stash of canned cat food. eek!

less words! i just wanted to share a little color with you today.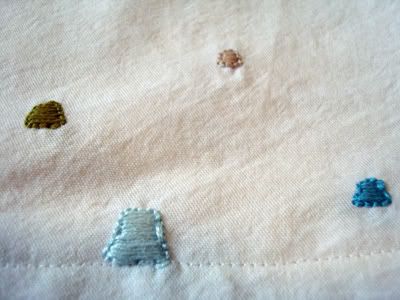 embroidery detail for a towel i made & sent as part of jessica gonacha's art swap



cute rainbow screen windows in dirty south phlly


alright, now i'm going to try to get some pictures of new gocco works that need to be posted in the shop tomorrow. they are CUTE. i hope :)