sooo! after reading SO many forum posts on etsy from wholesale buyers looking for new accounts, and etsy sellers looking for wholesale buyers... i took a HUGE plunge and opened up a blogger account to organize all of the etsy sellers offering wholesale/consignment!

i now have over 200 sellers tucked away in a list, and about 50 of them posted. i did the design in about half an hour, so it needs a lot of work, but i am so excited! i know it's kind of nuts, but it was something that DESPERATELY needed to be done. and what's done for the good of etsy is done for the good of the individual seller. i'm hoping i will have a little more visibility, but if not it's fine because i, too, am on the wholesale list. i don't have any intentions of putting my name and link all over it, because i want to be fair. but! if anyone gets super thankful and wants to buy from my shop, hullo, they are more than welcome :)

ooh here's the link! http://etsywholesalelist.blogspot.com

sorry if i sound really frazzled! it's because i am! i decided to do this like three hours ago and have been manically working on it ever since, taking only a few breaks for house chores and filling orders. yay filling orders!

btw! last night i had my first bike ride ever! well, i'm not sure if it's EVER but the first bike ride i can remember in ages. i had a (full size, dorky) scooter as a kid and used to ride that alongside my sisters on their bikes... anyway, it took me HALF AN HOUR (or so!) of struggling in the alley just to LEARN to ride a bike! so scary! then we had a good ride down the bike lanes on snyder and s. columbus... scary, busy streets, but the only ones with bike lanes! plus, it was the evening so there were fewer cars out.

anywho, it was really terrifying and idk when i'll get the nerve to go again- but it's going to be part of my lifestyle so hopefully i'll go again soon! plus, my bike is SO CUTE! here are pics, finally!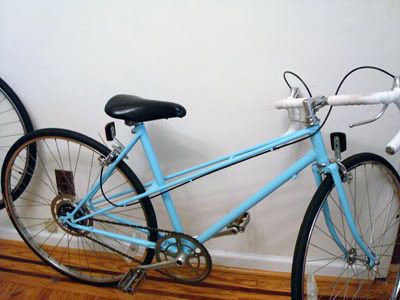 cuute details! the frame is some obscure vintage local NJ brand(?) called "general". but it's suuuch a cute vintage frame. ry sanded, primed, painted, and top-coated it for me. he let me pick out the seat from one of his grandpop's dozens, and i got the cutest one! the back wheel was a trade for yuengling from my friend matt-- so it's a little mix of lots of parts, but more importantly, lots of love.