i finally spent my barnes & noble gift card, part of which went to buying a copy of that 'drawing from the right side of the brain' book that everyone just raves about. if a semester with a genius teacher couldn't help me, maybe this can? and if not, i'm giving up, it's cool. it'll be my last effort and i can be at peace with it. anyway, i am so excited to start reading and practicing!

i never thought i would be one of those people that lights up with a cup of coffee- i used to be such a nutty morning person that would hop out of bed (naturally!) at 8 and immediately start my day. since i've been out of school, out of work, crafting, and dating an insomniac, my sleep schedule has been so out of whack. and a lot of it is that i get TOO much daylight sleep (ie. sleep from 4am to 11am), and the only thing that will bring that spark back into my eyes is coffee. yiiick!

the most exciting news perhaps is that i have improved more on my stamping and finally got an etsy account up. my link is http://juliepeach.etsy.com
here are a few of the things I posted!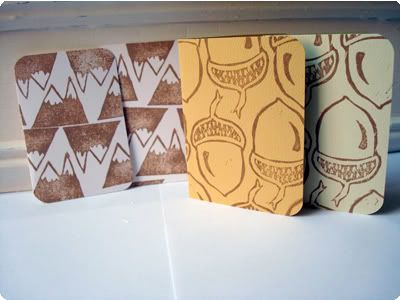 not much else is new. i have a pretty solid schedule every week and i'm trying to focus on the right now as much as i can. thinking about and planning my future has kept me up too many nights already-
hope everyone is enjoying these warm fronts!